Summer 2019 was a remarkable double-header for Red Sky at Night Events (RSAN), delivering Sports Presentation programs for two World Cups, the ICC Men's Cricket World Cup and, at the M&S Bank Arena in Liverpool, the Vitality Netball World Cup 2019.
Phew! We've just caught our breath and wanted to reflect on the Netball World Cup, a sell-out tournament attracting 125,000 netball fans from across the world to Liverpool for 10 amazing days of the world's top 16 sides battling it out for glory in the sport's most prestigious event.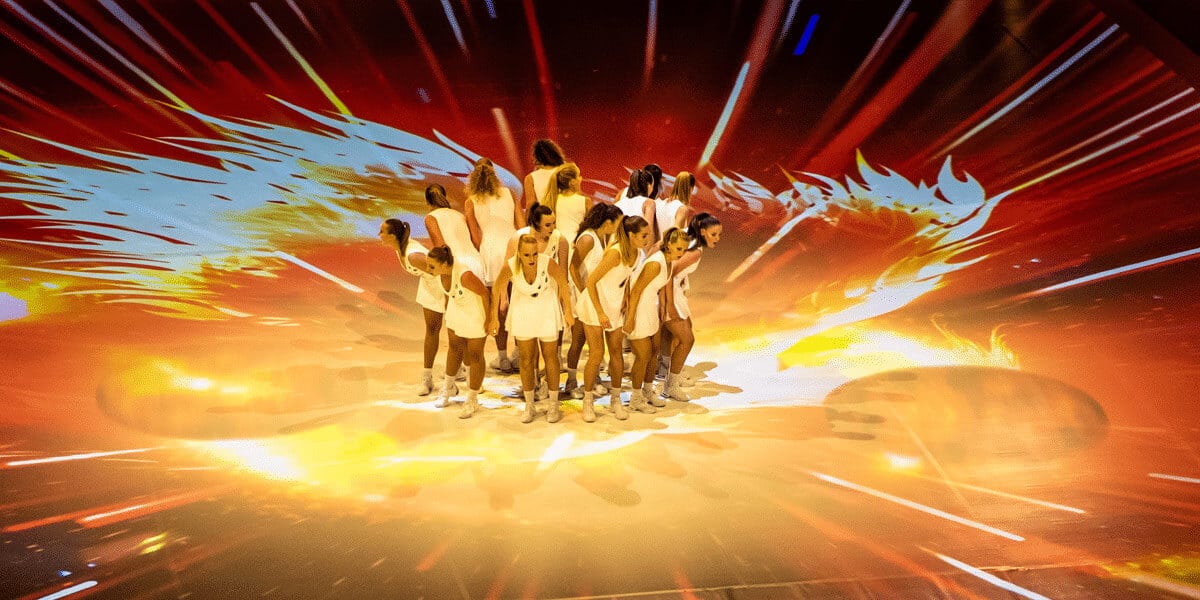 Our brief from the International Netball Federation was wide-ranging and included very technical aspects of event production as well as ensuring the venue atmosphere was energised by fans from start to finish. On-court action was intense, with morning and afternoon sessions each day, most featuring simultaneous play on two side-by-side courts. This unique configuration doubled our show-calling role and saw the RSAN team working flat-out cueing in-venue AV, our court-side in-vision presenters, multiple fan activations and ceremonial protocol as well as constant and close liaison with broadcasters Sky Sports and BBC Sports.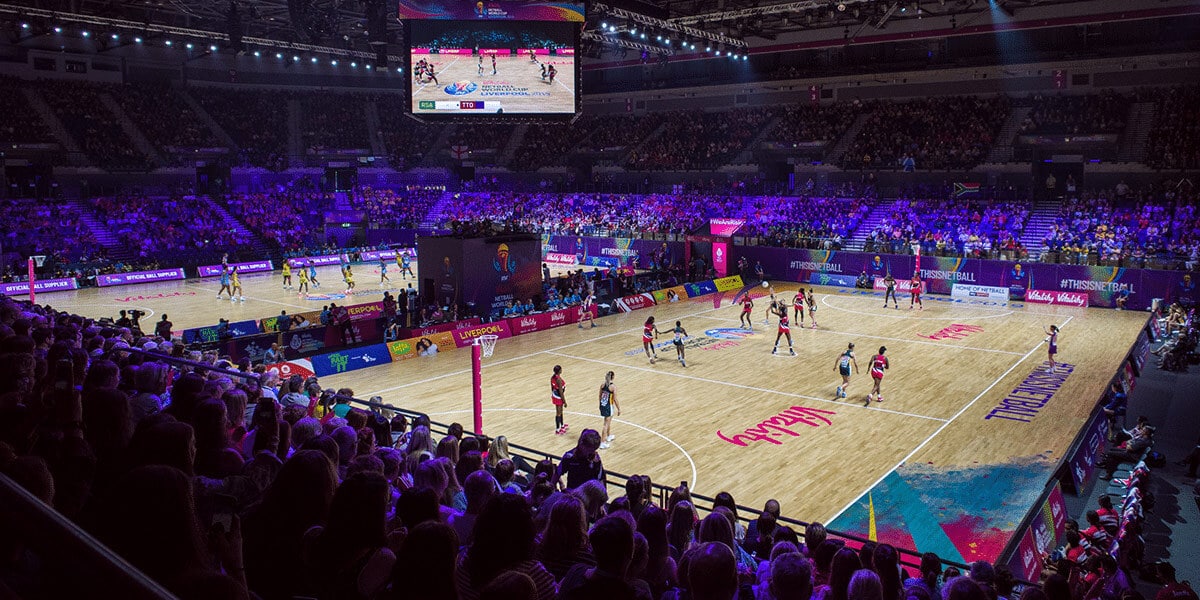 Centrepiece of the in-venue AV solution developed by RSAN with our technical contractor Adlib was a giant 4-sided video cube suspended from the arena ceiling offering replays, highlights, fixture information and fan interaction opportunities. It was truly massive and worked a treat.
RSAN adapted a specialist social app to aggregate thousands of netball fans' images and messages posted to Facebook and Instagram with the tournament hashtag #thisisnetball. This enabled us to not only 'grab' (aggregate) over 45,000 tagged fan posts, but we were able to moderate these images, selecting the best for relay onto the stadia video-cube screens, and transmit in a slide show format specially sized for our mega-screens. Such was the success of this initiative that our long-standing collaborator easypromos, whose suite of social contest apps we frequently deploy, created and published a case study on how RSANE integrated their #mention app with the Netball World Cup. Watch the case study here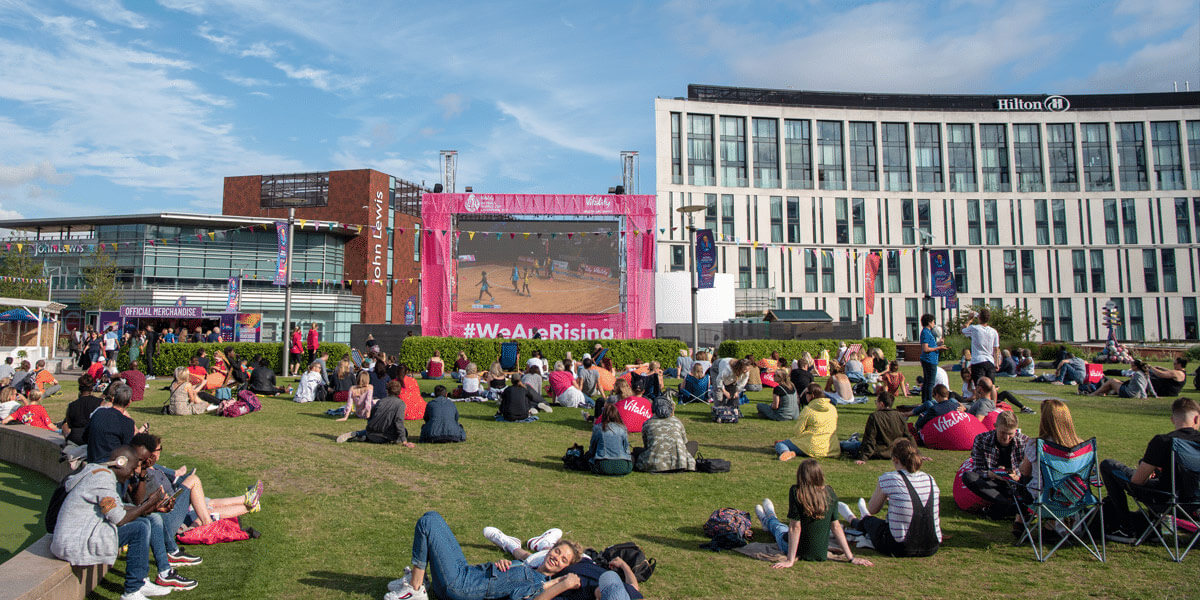 RSAN's Sports Presentation program ensured the venue was brimful full of energy and fun for netball fans of all ages and also, importantly, for the many fans attending live netball for the first time. Our program included t-shirt cannons, half-time shoot-outs and spot prizes adding to the atmosphere and keeping engagement levels high. Our celebrity netball match was a memorable opening to the tournament, with stars such as Jennifer Saunders and Oti Mabusi taking to the court in a fun showcase of the game which the capacity crowd thoroughly enjoyed.
New fans attending were welcomed and informed by an extensive suite of video productions created by RSAN to help explain Netball's rules and gameplays, while those already familiar with the game enjoyed seeing inspirational pre-match video messages from stars of the sport; this we also filmed and edited. Further RSAN video delivery included on-the-fly daily edits of netball fans gathering and having fun in the venue and beyond, while key in-match moments were punctuated with animated effects for added impact.
Our in-vision presenters were Charlie Brougham and long-time RSAN collaborator, Laura Winters. Both were court-side for every session of play, delivering great between-match interviews and fan interactions throughout the tournament.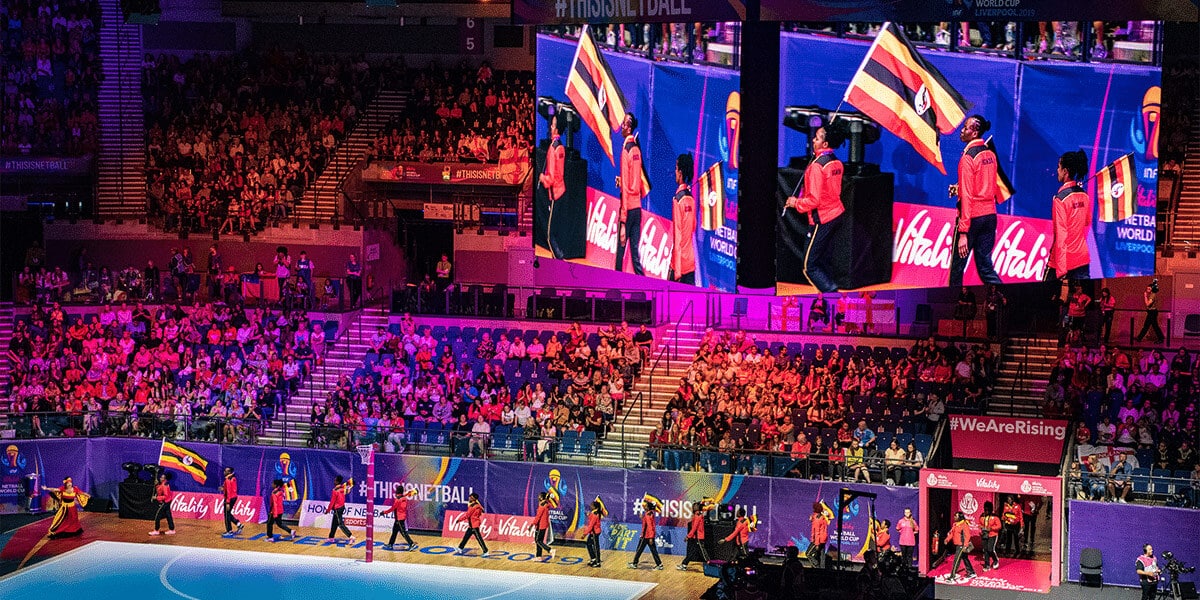 Jenny Gilmour, Managing Director of RSAN, said:
"We were absolutely thrilled to deliver Sports Presentation for the Vitality Netball World Cup 2019. Red Sky At Night's talented and hard-working team put in a massive shift during the planning and live stages; I'm so proud of what they achieved..

"From planning the amazing celebrity match at the start of the tournament to projecting fans' social media posts on the huge video cube and from managing the technical AV delivery to creating multiple video edits our focus throughout was on energising the atmosphere and creating utterly unique and memorable moments for netball fans."
And while the home nations' sides weren't able to prevent New Zealand's women taking home the trophy, passionate fans from across the UK and around the world enjoyed a superb 10 days of drama, entertainment and fun both on the court and off it.