The Vitality Netball World Cup 2019 has been named Event of the Year at the Sport Industry Awards 2020 and not only did Red Sky at Night Events deliver Sports Presentation and audio-visual production for the overall winning event, but shortlisted for the same award was the 2019 ICC Cricket World Cup, at which RSAN delivered both Sports Presentation and Fan Activation.
RSAN delivered a ground-breaking Sports Presentation programme at the Vitality Netball World Cup 2019 in Liverpool last summer, including spectacular opening and closing ceremonies, fan activation and dynamic media content.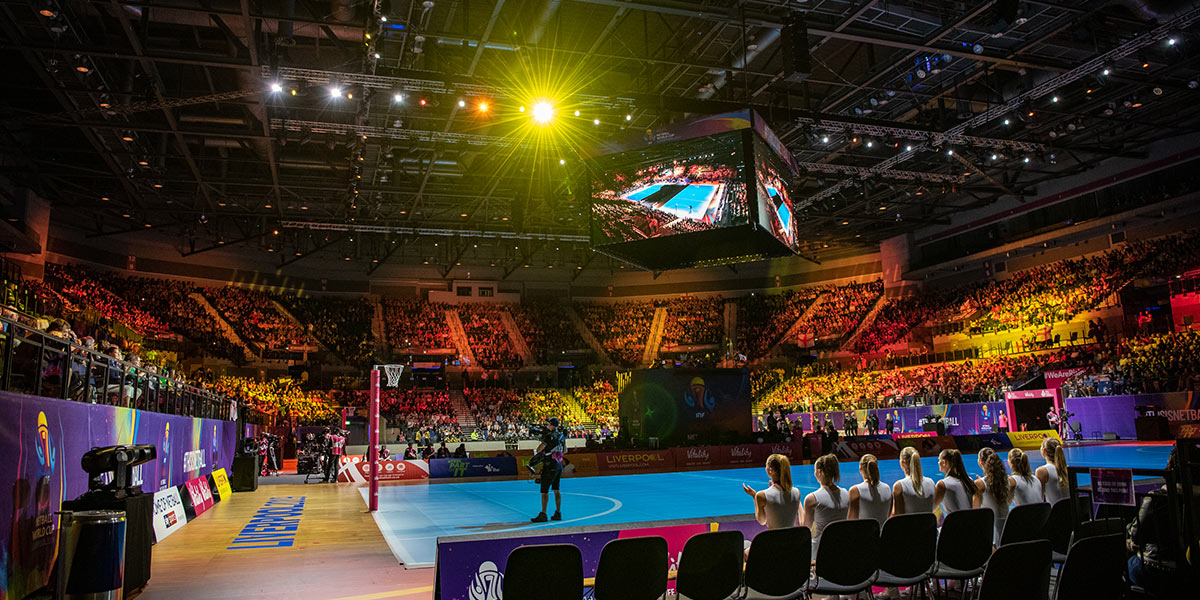 RSAN's innovative and engaging programme kept the action running smoothly and ensured an electric atmosphere throughout the tournament for the sell-out crowds of 125,000 netball fans.
Jenny Gilmour, Managing Director of RSAN, said:
"Delivering Sports Presentation for the Vitality Netball World Cup 2019 was one of the major highlights of Red Sky at Night's summer, a hugely challenging task which our team accomplished through their talent, dedication and hard-working ethos. Huge congratulations to the tournament organisers for winning Event of the Year, and thank you for choosing Red Sky at Night to be a part of that success."
Tasked with both event production and ensuring a fan-energised venue atmosphere at all times, our work included in-venue AV, court-side in-vision presenters, multiple fan activations and ceremonial protocol as well as constant and close liaison with broadcasters Sky Sports and BBC Sports.
From the huge 4-sided video cube suspended from the venue, which we developed in partnership with our AV suppliers, Adlib, to a specialist social app which aggregated over 45,000 pieces of fan-generated content and enabled quick moderation and transfer to the screens, RSAN's work helped forge a truly dynamic link between the on-court action and fans both at the venue and around the world.
The success of this approach was recognised by frequent RSAN collaborator, easypromos, who published a case study on the way we used their tools.
In winning the Event of the Year Award, the Vitality Netball World Cup 2019 emerged from a shortlist of five major sporting events. One of these was the ICC Men's Cricket World Cup 2019, with which RSAN was also deeply involved, delivering a vast and innovative Sports Presentation and Fan Activation program.
Jenny Gilmour added:
"Alongside our work at the Netball World Cup, we were also thrilled to play a huge part in the Cricket World Cup, and it's wonderful to see that two of the events RSAN helped to make such a success have been recognised at this year's Sport Industry Awards. We're very proud to have been involved in both of these fantastic events."
Find out more about Red Sky at Night's work on both the Vitality Netball World Cup 2019 and the ICC Men's Cricket World Cup 2019